More than 111,000 lionfish removed from Florida waters in 2016
Nonnative lionfish have successfully invaded Florida waters, which introduces a potential threat to native marine life and habitat. Harvest by recreational and commercial divers is currently the best means of controlling lionfish and minimizing unwanted ecological impacts. Be the predator and remove lionfish whenever you can!
Contribute to control efforts and donate to the Fish & Wildlife Foundation of Florida!
Reef Ranger Team of the Month
Kali Spurgin and Hanna Tillotson are the Lionfish Control team at Florida Fish and Wildlife Conservation Commission. They are both avid scuba divers that became science divers at Florida State University and continue to be dive buddies that remove lionfish from Florida waters whenever they get the chance!
The lionfish harvested in the photo were during a lionfish excursion with Ocean Divers near Molasses Reef off of Key Largo.
TEAM STATS:
Number of dives: 50+
Favorite reef visited: Natural bottom habitat offshore Mexico Beach
Number of lionfish harvested: Hundreds!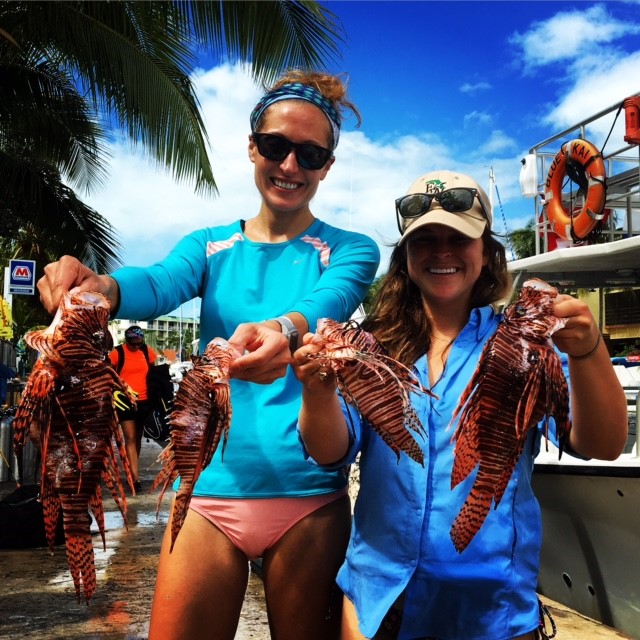 ---
Sign up to become a Reef Ranger and share a photo or story about your harvest and you could see your team featured here as team of the month!
---
Our Interactive Map
Explore the Reef Rangers map to see where divers have been removing lionfish. See an area that needs some attention? Become a Reef Ranger and protect your local reefs!
---
 Become a Reef Ranger