Vendor Map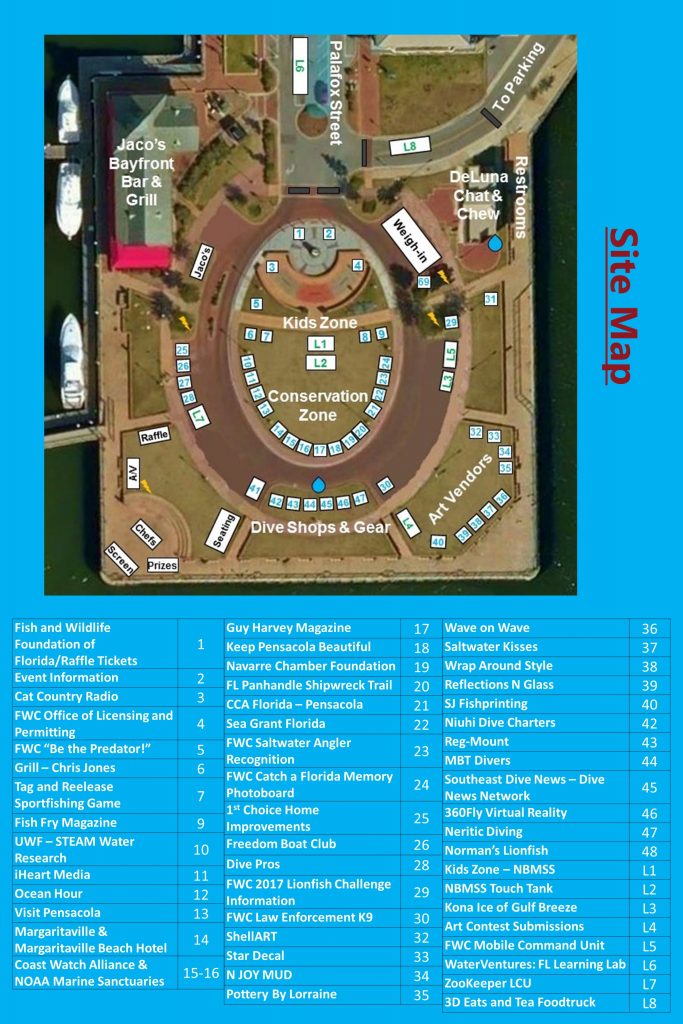 Vendors
 MARINE CONSERVATION & KIDS ZONE
FWC "Be the Predator!"
Florida Sea Grant
Tag and Reelease Sport Fishing Game
Coast Watch Alliance & NOAA Marine Sanctuaries
WaterVentures Florida's Learning Lab
Margaritaville & Margaritaville Beach Hotel
Guy Harvey Magazine
Navarre Beach Marine Science Station Touch Tank
Visit Pensacola
FWC Saltwater Angler Recognition & Catch a Florida Memory Photoboard
CCA Florida – Pensacola Chapter
Keep Pensacola Beautiful
Fish and Wildlife Foundation of Florida
Navarre Chamber Foundation
Florida Panhandle Shipwreck Trail
Ocean Hour
FWC Office of Licensing & Permitting
FWC Law Enforcement K9 Unit
Norman's Lionfish
Freedom Boat Club
UWF STEAM Water Research
FWC Lionfish Challenge Information
1st Choice Home Improvements
Vendor Information
Interested in being a vendor at this year's festival?
Download the 2017 Vendor Application.
Vendor set up is Friday, May 19 from 1 p.m. to 6 p.m and Saturday, May 20 from 7 a.m. to 9:30 a.m. Break down is Sunday at 5 p.m. There will be barricades blocking off the round-about Friday through Sunday. We will allow vendor vehicles into the park during set-up times ONLY.
There will be overnight security at the park both Friday and Saturday night. Keep in mind that the event is being held at the end of a pier and the event site could be affected by strong winds.
If you have any questions regarding vendor information, refer to the vendor application document or email Lionfish@MyFWC.com.
DIVE SHOPS & GEAR
Dive Pros
ZooKeeper
Niuhi Dive Charters
MBT Divers
Neritic Diving
Reg-Mount
Wave on Wave
360 Fly Virtual Reality
ART ZONE
ShellART
N JOY MUD
SJ Fishprinting
Pottery by Lorraine
Saltwater Kisses
Etched Style
Star Decal
Reflections N Glass
"Protecting our Native Fishes from Lionfish" Art Contest Display
FOOD VENDORS
Celebrity Chef lionfish tastings
Fish Fry Magazine
Kona Ice
Coast Watch Alliance Burgers & Hot dogs Grille
3-D Eats and Tea
MEDIA
iHeart Media
Cat Country Radio
A DJ Connection
Dive News Network
WCOA NewsTalk 1370